ILRS Data and Products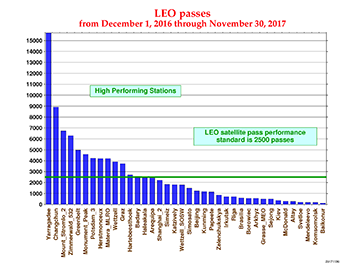 The ILRS collects, archives, and distributes Satellite Laser Ranging (SLR), Lunar Laser Ranging (LLR), and transponder observation datasets of sufficient accuracy to satisfy the objectives of a wide range of scientific, engineering, and operational applications and experimentation. These data sets are used by the ILRS to generate a number of scientific and operational data products.
ILRS Data: Laser ranging normal points (NPTs) constitute the primary ILRS data product; they are generated following the conclusion of the laser pass and typically transmitted to data centers within hours. Laser ranging normal points are compressed data using all identified signals within a specified time interval. The length of this normal point interval is primarily dependent upon the satellite altitude; lower orbiting satellites have a shorter normal point interval than high-orbit satellites. Full-rate data include all valid satellite returns and are thus larger in volume; these data are routinely provided by most stations in the ILRS network. Full-rate data are useful for both engineering evaluation and scientific applications.
ILRS Products: Products derived from these SLR observations include precise satellite ephemerides, station positions and velocities of sites in the ILRS network, and Earth Orientation Parameters (EOPs, i.e., polar motion and rates, length-of-day).
ILRS Predictions: The laser ranging stations require satellite orbit information in order to point their instrument to the correct location and acquire returns from the retroreflectors. Mission operations centers generate these predicted future orbits from calculated ranging data and radiometric orbits; the files are transmitted to the stations through email or by storing them within data center archives. The Consolidated Prediction Format (CPF) is now used operationally for satellite predictions within the ILRS; CPF provides orbit data that accurately predict positions and ranges for a large variety of targets in tables of X, Y, and Z positions, which can be interpolated for accurate predictions.
ILRS data, products, and predictions are available through two data centers:
Crustal Dynamics Data Information System (CDDIS) at NASA GSFC, Greenbelt, MD USA
EUROLAS Data Center (EDC) at DGFI, Munich Germany
Change to location of POS+EOP products in the CDDIS archive - The ILRS DCs have updated the archive location of the pos+eop products. Until today, the current year's products were archived in daily subdirectories at /slr/products/pos+eop/YYMMDD/. Beginning today, May 13, 2020, the products are now archived at /slr/products/pos+eop/YYYY/
YYMMDD/.
2021 ILRS Technical/Specialty Workshop - The ILRS Governing Board is pleased to announce that the 2021 ILRS Technical/Specialty Workshop will be held in the October 2021 timeframe in Arequipa, Peru. The workshop will be hosted by the Astronomical and Aerospace Institute at the University of San Agustin.

At this time, the ILRS continues planning for the 22nd International Workshop on Laser Ranging in November 2020 with the local hosts in Kunming, China.


New members of the ILRS Governing Board - Toshi Otsubo has announced that Jose Rodriguez (IGN Yebes) and Sven Bauer (GFZ Potsdam) have been elected by their EUROLAS colleagues as their representatives on the ILRS Governing Board. The change is effective 1 March 2020.

Toshi has sent his thanks to the former EUROLAS representatives Georg Kirchner and Pippo Bianco acknowledging that they worked not just for Europe on the Board but for the world-wide community for a long time. The ILRS hopes Georg and Pippo will stay actively involved in the ILRS.


New Software for ILRS Global Report Cards - The ILRS has been generating global report cards on a quarterly and monthly basis since 2012. A new version of the report card software is now available with changes that provide more accurate pass and NP counts, satellite RMS, and LAGEOS bias information. In addition, the table summarizing LLR data (Table 1 L) has been split into two parts (Table L1 and L2) to provide individual lunar retroreflector information. The report cards are available at: https://ilrs.cddis.eosdis.nasa.gov/network/system_performance/global_report_cards/monthly/.

For more information on the changes made to the report cards, please see: https://ilrs.eosdis.nasa.gov/network/system_performance/global_report_cards/report_card_differences_Jan01_2020.html.

Using the new software, data for the report cards between 2013 and 2020 has been regenerated and may be downloaded. The files are comma-delimited and available at https://ilrs.eosdis.nasa.gov/network/system_performance/global_report_cards/data_for_previous_report_cards.html.


Many meetings have been canceled or postponed due to COVID-19. Please see the Meetings page for futher information.
EGU General Assembly 2020,

Vienna Austria

, May 04-08, 2020 - Replaced by "EGU2020: Sharing Geoscience Online"