ICESat-2
Jump to: Mission Objectives, Mission Instrumentation, Mission Parameters, Additional Information
Mission Photos: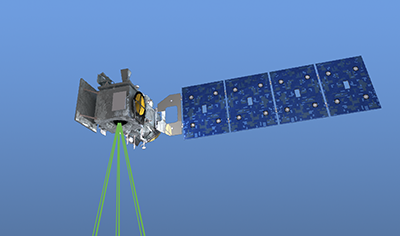 Courtesy of ICESat-2 Science Team
Mission Objectives:
The Ice, Cloud, and land Elevation Satellite -2 (ICESat-2) is part of NASA's Earth Observing System (EOS) program, which includes a series of satellites beginning in 1998 to measure Earth's atmosphere, oceans, land, ice, and biosphere for 15 years.
ICESat-2 Science Objectives:
Quantifying polar ice-sheet contributions to current and recent sea-level change, as well as ice-sheet linkages to climate conditions.
Quantifying regional patterns of ice-sheet changes to assess what drives those changes, and to improve predictive ice-sheet models.
Estimating sea-ice thickness to examine exchanges of energy, mass and moisture between the ice, oceans and atmosphere.
Measuring vegetation canopy height to help researchers estimate biomass amounts over large areas, and how the biomass is changing.
Enhancing the utility of other Earth-observation systems through supporting measurements.
Mission Instrumentation:
ICESat-2 has the following instrumentation:
Advanced Topographic Laser Altimeter System (ATLAS)
Retroreflector array
Mission Parameters:
| | |
| --- | --- |
| Sponsor: | NASA, United States |
| Expected Life: | 5 years |
| Primary Applications: | ice-sheet elevation change, sea-ice freeboard, and vegetation canopy height |
| Primary SLR Applications: | Satellite Laser Ranging is primarily used as independent validation and quantification of GPS-based precision orbit determination (POD). In addition, SLR is used in combination with GPS data to improve overall POD accuracy. |
| COSPAR ID: | 1807001 |
| SIC Code: | 6873 |
| NORAD SSC Code: | 43613 |
| Launch Date: | September 15, 2018 |
| RRA Diameter: | 31.75mm |
| RRA Shape: | hemispherical/pyramid |
| Reflectors: | |
| Orbit: | |
| Inclination: | 92 degrees |
| Eccentricity: | 0.001398 |
| Perigee: | 496km |
| Period: | 94.16 minutes |
| Weight: | |
Additional Information:
Web sites:
Publications:
Moussavi, M.S., Abdalati, W., Scambos, T., and Neuenschwander, A., "Applicability of an automatic surface detection approach to micro-pulse photon-counting lidar altimetry data: implications for canopy height retrieval from future ICESat-2 data", Int. J. Remote Sens., 35, 5263-5279, 2014